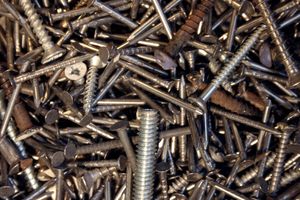 My office was attached to the backside of my house, but it was in an old room where they initially had a hot tub.  Come to find out, they decided to just chop the hot tub in half and let it fall under the house and then put flooring over top of it.  The floor had started to settle so I could be sitting at my desk and just roll backward if I stopped planting my feet, which makes for perfect working conditions.  That was fun for the first few weeks, but not so much after that. 
So at the moment, we are in the middle of some renovations.  We started by striking that "office space."  The plan was to build an office upstairs where the attic was.  We have a pretty large attic so we were just going to use a portion of that.  That didn't work out though because by the time you put walls up and everything else it would have been more like a hallway than an office.  So we went back to the drawing board and decided to add back on where we struck the office space before.  We really needed to do that anyway because a wall that we were planning on moving ended up being load bearing so that wasn't happening either. 
The addition ended up being my office and a laundry room.  We also remodeled our bathroom while we were at it and added a walk-in closet.  I have been out of an office space and in the formal living room for almost 5 months so I am quite ready to get all of my stuff back in order and to have a designated work area.  We have two kids so a desk right out in the middle of everything looks mighty inviting to just walk up and start grabbing stuff and moving it around. 
Hopefully, this will be over in the next couple of weeks and we can start getting our lives back in order. 
Just a little side note:  My wife and I are sleeping on a mattress at the foot of our older son's bed…yeah...