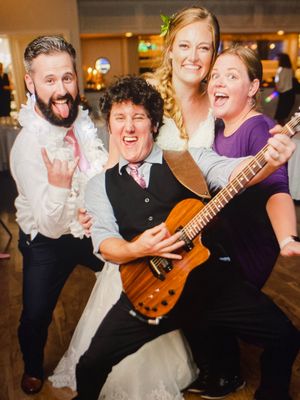 When you're planning a wedding reception and you want to turn it into an unforgettable event, what's the best way to do that?  Do you hire a wedding band or bring in a DJ to provide the dance music?  Without questions, it's almost always better to use a good wedding cover band rather than a DJ.  Providing live dance music for your family and friends is the best way to excite a crowd and pack a dance floor.
The music at your wedding has to be personal to you as a couple, but it also needs to appeal to a wide range of guests.  The best way to tick each of these boxes and more is the find yourself a fantastic live wedding band - here's why!
1. The Unmatched Atmosphere
Even if you've hired a top local DJ who's spinning your all-time favorite hits through top-of-the-line equipment, the sounds you'll be hearing and the feelings you'll be experiencing won't come close to those you'll get with a great live band.  Top-performing musicians working together and interacting with each other create an atmosphere that a DJ simply can't duplicate.  And if the DJ is having an "off night," for some reason, the whole evening could be shot.  With a multiple-member band, those guys can all feed off of each other and the energy level will increase exponentially. 
A band will typically have a much better light show than a DJ, as well.  You will probably tour the venue during the day, but it will most likely be dark during the reception.  A big light show can make a huge difference so bigger is better when it comes to lighting.
The energy and presence of a live performance won't just blend into the background like pre-recorded music.  You and your guests will be able to feel the electricity in the air.  The atmosphere at a live gig is always one of excitement. 
2. You Can Leave The Music Choices to the Professionals
Hiring a wedding band to look after all your musical needs ticks another job off your list - leaving you free to enjoy your big day, stress-free.  Once you've let them know the sort of style you're after (and the songs you can't stand), they'll know exactly what the party needs. They know their business and can bring that expertise to you.  Let them advise on music choices for different stages of the day - when to have live music and when to offer prerecorded playlists.  Professional bands have performed at hundreds of weddings and can give you the benefit of their years of experience, so you don't have to worry about anything.
3. Audience Interaction
You won't just get music, you'll get a performance!  There's nothing like a good beat accompanied by some synchronized dance moves to make your guests want to get up and dance.  Having everyone feeling good at your wedding will be a superb way to ensure you have the best time, too.  Great performers create a real connection with guests.  ON wedding days, when everyone's filled with love and champagne, the warmth and energy of several brilliant entertainers will have everyone ending the night in high spirits.  Professional wedding bands know how to read a room.  They'll pick up on what your guests respond to, and change the setlist accordingly.
Wedding bands are also great if your favorite songs aren't all that child-friendly.  Professional wedding bands know how to create a "PG night," so they can adapt lyrics to suit all of your guests' ears without compromising on songs.
4. A Live Band Can Go With the flow
A live band will be as flexible and supportive as possible on your wedding day.  If you have any last-minute changes or you're running a little late, they can adapt to your schedule, or make announcements between songs.  This happens more often than you would think so it's important that the band is in your corner to help navigate these changes.
5. No-Dancing Guests Will Enjoy Listening to the Music More
Weddings and receptions usually include guests from all age groups, from the very young to the very old, so it's important that the wedding band you hire be able to play a variety of music to bridge the gap.  That way, they'll be playing music that guests of all ages can enjoy.  Providing music for a wide range of tastes and ages is very important if the goal is to pull off an event that will be memorable for all. 
However, even if you hire the best band in the world, there's a good chance that not every single guest will want to shake their booty out on the dance floor.  And for those special guests, it's important to offer live music that they can enjoy to the fullest, even if they're on budging from their seats.  Some guests would simply rather listen to the music and watch the band and others on the dance floor.  For them. live music will be much more entertaining than pre-recorded songs.
6. Option for Live Music the Rest of the Day
Some of the musicians might be happy to perform at your ceremony, or during cocktail hour, which is usually much cheaper than hiring separate acts.  Your band's singer and one of the musicians might also perform a duo, so if you want some more laid back music while your guests are sipping champagne, ask your band if they can provide this for a small additional fee.  Using the musicians from your evening band will make this much more affordable than booking a separate group.
7. You Can Sometimes Use Their PA System
Ask your wedding band if they will allow you to use their microphones and PA system for speeches and announcements, or even to play some prerecorded music during dinner.  If they have to arrive early to fit in with your timings, they might charge a small additional fee - but as a modest add-on, it's great value for the money.
Be careful when getting multiple quotes.  I am a firm believer that, most of the time, you get what you pay for.  Be sure they will transport, set up, and tear down the gear, as well as run it during the event.  I have seen it happen too many times where they will bring the sound system in and just drop it off.  If you don't know anything about sound systems, this can be a major set back, and not something you want to deal with on your wedding day.
Conclusion
Keeping crowds excited and enthused is the key to creating an event that will live a long time in the minds of those attending, and the best way to do that is to hire a wedding band that'll keep your guests involved.  A fun, high-energy band will not only increase the excitement during the celebration, they will have the guests raving long after the party is over!